Archive
The following archive, a work in progress, will include bibliographical, online and other reference materials. Dates are styled day/month/year. The archive references both published and unpublished material written since 1967 and contains the following subdivisions: Poetry, Prose, Titles and First Lines, Notes, Vocabulary and Place Names, Photographs and Documents.
ATG A Temporary Grace, SST Such Sweet Thunder, ADP A Dwelling Place
CAKC Condemned At Kangaroo Court
PN personal website peternicholson.com.au 3QD 3 Quarks Daily
Work, Date written, Date first published print *, electronically +, Excerpts ex.
All work revised and edited subsequent to initial dates of composition.
More detailed bibliographical information is available on request.

Poet. Graffiti at work place, 1991, artist/s unknown, at the time of the publication of A Temporary Grace
POETRY
NB References work published between 1967 and 1997
At The Water's Edge *ATG 28/8/1991
Australia 1967–1973 +PN 31/3/1998 *Delphic Intimations Feb 2007
New England Graveyard 1972–1973
Open Season 1967–1973
The Poet 1967–1973
Wilfred Owen 1967–1973
Final Solution 1967–1973 +PN 31/3/1998 +Soup of the day 15/7/2002
Orpheus 1967–1973
Miniatures 1967–1973
I Wasp
II Moth
III Spider
Australian History Lesson 1967–1973
Galileo 1967–1973
On The Asian Continent 1972–1973
Among The Florentine Gallery Tributes 11/1/1973–1974
Poet And State 1974
Revenant, Armidale 1974
Veni Creator Spiritus 1974
Terra Australis 1974
Pax Imperium 1974
Round Sydney Harbour 1974
Metamorphosis 1974
Pierrot 1974
At Cannes 1974–1975
Années de Pèlerinage 1976
Tribute 1976
Nuclear Nightmare 6/4/1981
Music 1975 +Ozlit 5/10/1997 +3QD 7/10/2006
Views To A Bridge *ATG 28/8/1991
While The Billy Boils 25/12/1981
Confetti Candour 1984
Sheep-Dip Muster 1984
Adelaide Festival 1984 11/3/1984
Asking Auden 31/10/1984 +PN 31/3/1998 +3QD 15/1/2007
Views To A Bridge 1984
Sydney Spring 14/11/1984
Lunch At Centrepoint 20/12/1984
And The Winner Is . . . 1984 +PN ex. 31/3/1998 +3QD 24/9/2007
In Celebration 5/1/1985
Margaret Sutherland
Grace Cossington Smith
Joan Sutherland
Rehearsal 2/11/1984
Tooth Fairy's Desertion 1984
Figures In A Landscape 13/5/1985–31/5/1985
Ode To Suburban Man 9/4/1985
Ars Poetica 10/4/1985
Elegy For Ruth 28/5/1985–2/6/1985
Shadow Of A Doubt *SST 28/4/1994
Bienvenue à Moruroa 2/2/1986 *+ Summer 2009 PRIVATE n. 45 International Review of Photographs and Texts Development: An Ecological Question p. 33
Bad 18/7/1985
I Favourite
II At A Glance
Double 4/10/1985
Hitch 6/10/1985 +PN 31/3/1998
Poet At Work 25/10/1985
Thirty-five 8/7/1985–1/12/1985
The Speewah Ballad 28/12/1985–5/1/1986 +3QD 2/7/2007
Absolutely No Extensions Possible 11/1/1986 +PN 31/3/1998
Cold 18/1/1986
Tooth And Claw March 1986
Stone 25/3/1986–26/3/1986
Thou Swell 31/3/1986
Late News 15/31986–16/3/1986 +Ozlit ex. 5/10/1997
Swan 17/3/1986
Morning Assignation 1986
Ascent 29/6/1986–7/2/1987
Pause 1986
et je danse 5/10/1986 * Anna Bemrose Robert Helpmann A Servant of Art UQP 2008 p. 312
Passing Trade 26/10/1986
Old Acquaintance 28/10/1986
Transformation Scene 12/12/1986
In A Country Garden 27/12/1986
Evening 17/10/1986
Official Secrets 17/2/1987 +PN 31/3/1998 +ergence 2001
Prometheus 3/7/1985–May 1987 *SST 28/4/1994 ex.+14/1/2008 3QD
S.S. Snakebite *SST 28/4/1994
Top Hat 6/6/1987 +3QD 12/3/2007
Rendezvous de Fruits de Mer 7/7/1987
Circus Animals Burning 14/7/1987
Be Kind To Insects Week 14/7/1987
Summer Nights 19/7/1987 +PN 31/3/1998 *Viewing English/Korean Dec. 2000
Scorpion 1987
Mortamadonna 22/7/1987
Salt 1987 *Delphic Intimations Feb 2007
Asia-Pacific 29/7/1987
I Not A Haiku
II Haiku
To Mr W. S. 10/6/1987–14/7/1988 +PN 31/3/1998
Mirror 2/10/1987
Lustre 4/10/1987 +Ozlit 5/10/1997
Black 1988 3/11/1987
Waiting To Abort 22/11/1987
Swan Box 13/12/1987
Slept Soundly 23/12/1987
New Year Retro 3/1/1988–4/1/1988
May I Have This Dance? 15/1/1988 +PN 31/3/1998
Feedtime 15/2/1988
Micky Takes Valium 7/4/1988–8/4/1988
Country 24/4/1988
Things Wrong In The Dream Kitchen 26/10/1988–5/5/1988
Owed To Feral Face 19/5/1988
Rock Face 21/5/1988 +PN 31/3/1998
Apocalyptica 21/5/1988–1/1/1989 +Ozlit ex. 5/10/1997
Orange Penguins 17/7/1988
Decades 28/8/1989
A Patient, Found Hanged 20/9/1988–25/10/1988 +PN 31/3/1998
Greenpeace 2/12/1988
S.S. Snakebite Docks 20/5/1988
Speech To A Mountain *ADP 12/7/1997
The Path Taken 8/12/1988
Short Prayer 12/12/1988
Go 8/1/1989
A Grace 5/2/1989
Crocodile Tears 18/2/1989–16/12/1989
Apple On A Plate 27/2/1989
Clouds 28/3/1989
Green May 1989
Cut Skin 22/5/1989
ICI REPOSE VINCENT van GOGH 11/5/1989 +Ozlit 14/5/1997 + 3QD 31/8/2007
Sunday Afternoon 31/5/1989
Dear Diary 31/5/1989
Winter Solstice 7/7/1989
Gifts 25/6/1989–27/6/1989 +PN 31/3/1998
I Saw Elvis In The Supermarket Queue 16/4/1990–10/5/1990 +PN 31/3/1998
A Definition 19/7/1989 +PN 31/3/1998; +Dec. 2000 Poems about Poetry; +3QD
6/7/2007; Prosopisia Vol. 1 2008 pp. 48-50
Confused In The Pacific 22/7/1989 +PN 31/3/1998
Suit Of Our Dimension 6/8/1989
Big Stuff 10/8/1989
Now, Voyager 25/8/1989 +Ozlit 5/10/1997
On Platypus Rock 10/9/1989
An Encounter 1989
Anton Bruckner 12/11/1980–March 1990
Poet 15/11/1989 +Ozlit ex. 5/10/1997 Poetica ABC Radio National 2/3/1998
Too Serious 17/12/1989
Summer With Mosquitoes 1990
Speech To A Mountain 25/2/1990–16/4/1990
In The Making 17/5/1990
On Children Going To Sleep 1990 +PN 31/3/1998
Trophy 6/3/1990
What Horses' Eyes Have Seen 14/4/1990
Great Attractor 4/4/1990–5/5/1990
New Affection, New Noise *ADP 12/7/1997
Autumn Elegy 25/5/1990
Voluntary 14/6/1990
Emily— 15/6/1990–6/7/1990 +Ozlit ex. 5/10/1997 *Visiting Emily UIP USA 10/12/2000 +23/10/2006 3QD
What's Up, Doc? 29/7/1990–11/8/1990
Laurel 7/8/1990 +Ozlit 14/5/1997
A Dwelling Place 27/8/1990
Songlines 17/8/1990 +Ozlit 5/10/1997
Surfer 23/8/1990
Triumvirate 1990
A Prophecy 1/11/1990–5/11/1990
Cloudburst 2/12/1990
Forty 6/11/1990–22/12/1990
Word 19/12/1990 +PN 31/3/1998 +3QD 7/10/2006 *Prosopisia Vol 1 2008 pp. 55–56
Crest 4/1/1991–14/1/1991
Good Weekend 6/1/1991
New Affection, New Noise 6/1/1991 +PN ex. 31/3/1998 +Ozlit 14/5/1998
An Answer 23/1/1991
Five Shakespeare Studies 3/12/1990–29/1/1991 +Ozlit ex. 5/10/1997 +PN ex. 31/3/1998
Remembrance Near A Trace Of The Berlin Wall 24/2/1991
Geography 1991 +PN 31/3/1998
Gym Junkie Freakout 13/2/1991–14/2/1991
Star Sign 17/2/1991
In Transit 3/3/1991–16/3/1991
You, who have come thus far 12/3/1991 +PN 31/3/1998
Reversal 11/3/1991 +PN 31/3/1998

On holidays, Byron Bay, New South Wales
PROSE
Fast Forward 22/12/1979–23/3/1980 *28/8/1991 ATG
Introduction to Such Sweet Thunder 1993-1994 *28.4/1994 SST
Notebook 27/8/1993–1/4/1996 * ex.+12/7/1997 ADP ex.+3QD 19/11/2007
Ozlit editorial +8/10/1997
Personal website peternicholson.com.au +31/3/1998
Hammerhead *2003 +22/9/2011
#To Seek and Find Part 1 published electronically in 3 Quarks Daily edited Abbas Raza 3quarksdaily.com
3quarksdaily.blogs.com/3quarksdaily/2005/09/poetry_and_cult.html 6/10/2001—
December 2001 + 26/9/2006 ; Prosopisia eds. Anuraag Sharma, Pradeep Trikha Vol. 1 2008 pp. 44–56 * 28/1/2008
NB First cyberproem—digital prose plus associated poem, noted #
#To Seek and Find Part 2 3QD 3quarksdaily.blogs.com/3quarksdaily/2005/10/poetry_and_cult.html +24/10/2005
+ Blesok No. 56 Volume X September-October 2007 English/Macedonian
Benjamin Britten Music and Poetry, attendant muses at the grinding gears 3QD
3quarksdaily.blogs.com/3quarksdaily/2005/11/poetry_and_cult.html +21/11/2005
#Federico Fellini Circus Maximus 3QD
3quarksdaily.blogs.com/3quarksdaily/2005/12/federico_fellin_2.html +19/12/2005
#Poetry of the Real Six Feet Over 3QD
3quarksdaily.blogs.com/3quarksdaily/2006/01/poetry_of_the_r.html +16/1/2006
#Birgit Nilsson and Joan Sutherland The Stupendous 3QD
3quarksdaily.blogs.com/3quarksdaily/2006/02/birgit_nilsson_.html +13/2/2006
#Winged Victory The Sydney Opera House 3QD
3quarksdaily.blogs.com/3quarksdaily/2006/03/winged_victory_.html +13/3/2006
#Philip Larkin Hull-Haven 3QD
3quarksdaily.blogs.com/3quarksdaily/2006/04/philip_larkin_h.html +10/4/2006
The Best Poems Ever 3QD
3quarksdaily.blogs.com/3quarksdaily/2006/05/the_best_poems_.html +8/5/2006
Richard Wagner Orpheus Ascending complete text published *Wagner
The Wagner Society of the United Kingdom Vol 22 No 1 March 2001 pp. 3-37
Part One ex. 3QD
3quarksdaily.blogs.com/3quarksdaily/2006/06/richard_wagner_.html +5/6/2006
Richard Wagner Orpheus Ascending Part 2 ex. 3QD
3quarksdaily.blogs.com/3quarksdaily/2006/07/orpheus_ascend.html +3/7/2006
#Richard Wagner Orpheus Ascending Part 3 ex. 3QD
3quarksdaily.blogs.com/3quarksdaily/2006/08/orpheus_ascendi.html +28/8/2006
#Whatever A New York State of Mind 3QD
3quarksdaily.blogs.com/3quarksdaily/2006/09/whatever_a_new_.html +11/9/2006
Poetry of Lists 3QD (prose poem)
3quarksdaily.blogs.com/3quarksdaily/2006/09/poetry_of_lists.html +25/9/2006
#Emily Dickinson The Poem of Ecstasy 3QD
3quarksdaily.blogs.com/3quarksdaily/2006/10/emily_dickinson.html +23/10/2006
#Ern Malley Doppelgänger in the Desert 3QD
3quarksdaily.blogs.com/3quarksdaily/2006/11/ern_malley_dopp.html +20/11/2006
* Kanwar Dinesh Singh (ed.) Explorations in Australian Poetry pp. 80–88

#Don't Curb Your Enthusiasm 3QD
3quarksdaily.blogs.com/3quarksdaily/2006/12/dont_curb_your_.html +18/12/2006
'Asking Auden' 3QD (poem)
3quarksdaily.blogs.com/3quarksdaily/2007/01/marbeck_valeria.html +15/1/2007
#My Perverse Critic: Marbeck Valerian 3QD
3quarksdaily.blogs.com/3quarksdaily/2007/02/my_perverse_cri.html +12/2/2007
#Invitation To The Dance 3QD
3quarksdaily.blogs.com/3quarksdaily/2007/03/invitation_to_t.html +12/3/2007
#'Ah! fuyez, douce image' 3quarksdaily.blogs.com/3quarksdaily/2007/04/ah_fuyez_douce_.html +9/4/2007
Gwen Harwood 3QD
3quarksdaily.blogs.com/3quarksdaily/2007/05/gwen_harwood.html +7/5/2007
Sir Edward Elgar: Allegro vivace e nobilmente 3QD
3quarksdaily.blogs.com/3quarksdaily/2007/06/sir-edward-elga.html +4/6/2007
#'The Speewah Ballad' (poem) 3QD
3quarksdaily.blogs.com/3quarksdaily/2007/07/the-speewah-bal.html#html +2/7/2007
Gustav Mahler: 'Though I sang in my chains like the sea' 3QD
3quarksdaily.blogs.com/3quarksdaily/2007/07/gustav-mahler-t.html +30/7/2007
'Is your mouth a little weak?': commitment, politics and poetry 3QD
3quarksdaily.blogs.com/3quarksdaily/2007/08/is-your-mouth-a.html +27/8/2007
'And The Winner Is . . .' (poem) 3QD
3quarksdaily.blogs.com/3quarksdaily/2007/09/and-the-winner-.html +24/9/2007
#'Gut gemacht, Rex!' 3QD
3quarksdaily.blogs.com/3quarksdaily/2007/10/gut-gemacht-rex.html +29/10/2007
Notebook 3QD ex.
3quarksdaily.blogs.com/3quarksdaily/2007/11/notebook.html +19/11/2007
A Golden Age 3QD
3quarksdaily.blogs.com/3quarksdaily/2007/12/a-golden-age.html +17/12/2007
'Prometheus' (poem) 3QD ex.
3quarksdaily.blogs.com/3quarksdaily/2008/01/prometheus.html +14/1/2008
Fireworks Display Exhaustion Syndrome 3QD
3quarksdaily.blogs.com/3quarksdaily/2008/03/fireworks-displ.html +3/3/2008
Sydney

A kookaburra's blubbering laugh
Skids above the gumtrees' lean,
Shards of light rekindling
Harbour's blue acetylene.

And blossoms large as bruises fall
In supplication where a swirl
Of wings divide this limping air,
Cresting over beaches' foil,

Roundabouts of coastal wrap,
Sandstone blocks and bitumen,
Miles of terracotta roofs
Sloped to sheer oblivion.

Flesh abrades in shower and bed
Geographies for loving,
Hillside muscles slumped
On salted sheets' revisions.

Cockatoo headline of Opera House sails
Flashes its crest near the Quay
As night's shenanigans up at the Cross
Dwindle to weak cups of tea.

Pulseline of buildings mortgages trains
Where Heralds flap into position,
Row upon row of white collars creased,
Timetables laughed at by larrikins.

Westwards to afternoon, reaching at bush,
Grids sweat time from the crowd,
Circling emerald's eucalypt swash
Stroking sunset down.

Then, past backyards, over the mountains,
Images float to the brain,
Tethered by dreaming in suburbs
Beside the Pacific's black sheen.

Photograph accompanying excerpt from the poem 'Sydney', written 1993, used in limited edition booklet given to guests by the Lord Mayor at the Sydney 2000 Olympic Games, showing Triathlon swim leg, Bennelong Point, Sydney Harbour

Anna Bemrose Robert Helpmann A servant of art University of Queensland Press
2008 'et je danse' p. 312, written 1986, first published Such Sweet Thunder 1994, p. 39
NOTES
NB References work published between 1967 and 1997 and CAKC 2002
Australian History Lesson
The poet Christopher Brennan (1870-1932) was Associate Professor in German and Comparative Literature at the University of Sydney until 1925. Brennan's poetic technique owes something to the French Symbolists, one of whom, Mallarmé, Brennan corresponded with.

Metamorphosis
The poet Francis Webb (1925-1973) died at Rydalmere Hospital, Sydney.

Tribute
The poet, critic and intellectual James McAuley (1917-1976) espoused a conservative, classicist poetic. With Harold Stewart he engineered the Ern Malley hoax poems, The Darkening Ecliptic, a cause célèbre in Australian literary history.

Années de Pèlerinage
Patrick White, novelist, short story writer and dramatist

Nuclear Nightmare
Shine! shine! shine!: Walt Whitman, 'Sea-Drift'

While The Billy Boils
On November 11, 1975 the Whitlam Labor government was dismissed from office by the Governor-General, Sir John Kerr, precipitating an unprecedented constitutional crisis.
Maralinga brightness in the sky: Maralinga, in South Australia, was the site of joint Anglo-Australian nuclear tests which included above-ground explosions.

Adelaide Festival 1984
Among many events at the 1984 Adelaide Festival of the Arts, the Philharmonia under the direction of Vladimir Ashkenazy played Beethoven's nine symphonies, the Grupo de Teatro Macunaima presented Mário de Andrade's Macunaima and the State Opera of South Australia performed Shostakovich's Lady Macbeth of the Mtsensk District.
The previous year bushfires, designated the Ash Wednesday fires, devastated parts of Victoria and South Australia, including the Adelaide Hills.

Asking Auden
Chester, Igor, Rhoda: Chester Kallman, Igor Stravinsky, Rhoda Jaffe

In Celebration
Margaret Sutherland, Australian composer; Grace Cossington Smith, Australian painter;
Dame Joan Sutherland, Australian opera singer, 'La Stupenda'

Rehearsal
When his heroine died a dead duck: premiere of La Traviata, a fiasco

Lunch At Centrepoint
This poem was written at a time when the Kanak Melanesians were agitating for an independent New Caledonia. At the top of Centrepoint Tower in Sydney there is a revolving restaurant with views to the ocean.

And The Winner Is . . .
After the night of the hummingbird's plunder: a reference to the Night of the Long Knives, the Nazi SS putsch against the SA, codenamed Operation Hummingbird
Will the Timorese greet me, / Tasmanians cheer me? / (I mean the original, those Aboriginal): Indonesia annexed East Timor in 1976. There is disagreement as to why the Aboriginal population of Tasmania declined so precipitously during the nineteenth century.

Figures In A Landscape
In Utzon's white rinds: Jørn Utzon, Danish architect of the Sydney Opera House
But you'd still like to see / A Ring on the stage: fulfilled December 2004, Adelaide, State Opera of South Australia; first staging of an Australian production
And remember Andrea's voice: Andrea (Dorothea Gordon Jenner) was a popular Sydney radio personality during the 1950s and 1960s.

Bienvenue à Boom Boom
France exploded atmospheric (until 1974) and below-ground nuclear devices at Moruroa Atoll despite vociferous objections by the South Pacific nations. Testing has since ceased.

Absolutely No Extensions Possible
the sun, the sun—: Oswald Alving at the end of Ghosts, Henrik Ibsen

Tooth And Claw
Alfred, Lord Tennyson, 'In Memoriam: A.H.H.' 'Nature, red in tooth and claw'

Thou Swell
Lorenz Hart, American lyricist A Connecticut Yankee 'Thou Swell' 'Thou swell! Thou witty! / Thou sweet! Thou grand!'
Your heart was frail, / A ship without a sail: Head's Up 'A Ship Without A Sail' 'Why is my heart so frail / Like a ship without a sail?'
But tender was your night: F. Scott Fitzgerald, Tender Is The Night, from Keats, 'Ode To A Nightingale'

Ascent
Pippa passes: see 'Song' from Robert Browning, Pippa Passes, 'God's in his Heaven– / All's right with the world!'

et je danse
Arthur Rimbaud, Les Illuminations Xll 'Phrases'
Though it was checkmate in the patient's bed: Checkmate was written at the request of Sadler's Wells Ballet for the first appearance of the company in Paris in 1937, music Arthur Bliss, choreography Ninette de Valois. Helpmann danced in the original production. It was also the last ballet in which he appeared, The Australian Ballet, May, 1986.
Helpmann was Margot Fonteyn's first significant dancing partner.
Sir Robert Helpmann, dancer, choreographer and actor 1909–1986

Official Secrets
Sol Invictus: Roman cult of sun worship, begun under Aurelius, later adapted to Christianity
Under the weasels and whales of clouds: Hamlet III. II
Hamlet Do you see yonder cloud that's almost in shape of a camel?
Polonius By th' mass, and 'tis: like a camel, indeed.
Hamlet Methinks it is like a weasel.
Polonius It is backed like a weasel.
Hamlet Or like a whale.
Polonius Very like a whale.

Prometheus
Gentleness, virtue, wisdom and endurance: taken from Shelley, Prometheus Unbound, Act lV

Black
In 1988 Australia celebrated its bicentenary of white settlement.
Uluru: Aboriginal sacred site; formerly Ayers Rock

New Year Retro
When handshakes prospered, for a moment, peace: the Gorbachev–Reagan summit in Reykjavík, Iceland

Owed To Feral Face
Semtex: odourless plastic explosive used by terrorists

Rock Face
I am I am I am, / A white flag on the horizon.: S. T. Coleridge, Biographia Literaria 'The primary IMAGINATION I hold to be the living Power and prime Agent of all human Perception, and as a repetition of the finite mind of the eternal act of creation in the infinite I AM.'; in the medieval Tristan legend the white flag was the signal of rescue

Short Prayer
The Armenian earthquake, December 7, 1988, resulted in the deaths of 25 000 people.

A Definition
When the gold myrtle wreath: This wreath was displayed as part of the exhibition Ancient Macedonia which was loaned by the Greek government as a gesture of goodwill to Australia for its Bicentenary in 1988. The Vergina tomb artefacts, including this wreath, have undergone extensive research as to their provenance since their discovery by Manolis Andronikos.
just like Johnny, / It'll be back, grinning: Jack Torrance in Stanley Kubrick's The Shining which itself references Johnny Carson's The Tonight Show

Now, Voyager
Walt Whitman, Leaves of Grass 'The untold want, by life and land ne'er granted, / Now, Voyager, sail thou forth to seek and find.'

Anton Bruckner
This prose poem refers to a performance of Anton Bruckner's Eighth Symphony given by the Sydney Symphony Orchestra under the direction of Stuart Challender in the Concert Hall of the Sydney Opera House.

Great Attractor
Some scientists have postulated the existence of a Great Attractor whose immense gravitational force would eventually absorb all matter.

What's Up, Doc?
Mel Blanc (Melvin Blank), voice actor who worked for Warner Bros. and Hanna–Barbera, responsible for voice characterisations of Bugs Bunny, Daffy Duck and Tweety Pie among many others

New Affection, New Noise
Arthur Rimbaud, Les Illuminations Vlll 'Départ' 'Départ dans l'affection et le bruit neufs!'

An Answer
See Emily Dickinson's letter to Dr and Mrs J. G. Holland written in the summer of 1862?:
'Perhaps you laugh at me! Perhaps the whole United States are laughing at me too! I can't stop for that! My business is to love.'

The Clouded Sky Is Now Serene
W. S. Gilbert, H.M.S. Pinafore 'Oh joy, oh rapture unforeseen, / The clouded sky is now serene.'
Timor Gap
Written when Australia and Indonesia signed the Timor Gap Treaty, a division of oil resources in the Timor Sea.
Garuda: ancient Indian mythological creature, devourer of serpents and king of the birds; Indonesia's national airline
Merdeka: Indonesian struggle for independence from the Dutch
Tutors
Amherst, Arles, Bayreuth: dwelling places of Emily Dickinson, Vincent van Gogh and Richard Wagner
A Lecture
The solution was simple: strangle your wife.: The French philosopher Louis Althusser strangled his wife Helene in their apartment at the École normale supérieure on November 16, 1980.
Stuckist complicity: artists aesthetically 'stuck' in outmoded styles of expression
landscapes of Williams: Fred Williams, Australian landscape painter
Further
tyrannies / Of instance tossed: see Geoffrey Blainey, The Tyranny of Distance
This Birth
Eve van Grafhorst (1982–1993) contracted AIDS through a blood transfusion. Subsequently, she left her pre-school in New South Wales and settled with her family in New Zealand.
Appointment
Memphis in myth-mist: temperature inversions sometimes shroud Sydney in mists, giving the city an otherworldly appearance
Zero At The Bone
Emily Dickinson, 986 'A narrow Fellow in the Grass'; last line, 'And Zero at the Bone—'
Big Orange Sunset
The title comes from one of Brett Whiteley's paintings, Big Orange (sunset). Australian artists Brett Whiteley (1939–1992); Sir Sidney Nolan (1917–1992)
This Sporting Life
Australian rules: Australian Rules Football, a game distinct from league, union or soccer, first developed and played in the nineteenth century.
Larkin Land
A fifty-dollar lettered life / Can't give you all the facts: W. H. Auden, 'Who's Who' 'A shilling life will give you all the facts.'
'Final Annex' In A Writer's Life (Faber and Faber, 1993) Andrew Motion describes Larkin's collapse, shortly before his death, in a downstairs lavatory, his face pressed against central heating bars.
XXVll Olympiad
Sydney Olympic Games September 15–October 1, 2000
Dreamtime: Aboriginal time of the creation of all things when ancestor spirits came to Earth in human and other forms
Southern Cross: star constellation in the Southern Hemisphere; part of the Australian flag
Intervista
Federico Fellini, Italian auteur; his penultimate film was Intervista (1987)
Giulietta's eyes: Giulietta Masina, Italian actor, Fellini's wife
Begin In Gladness
See Wordsworth, 'Resolution and Independence', 'We Poets in our youth begin in gladness; / But thereof come in the end despondency and madness.'
Truth
: Is something rich and strange: The Tempest I. II
Ariel Nothing of him that doth fade
But doth suffer a sea-change
Into something rich and strange.
Dedication
Friedrich Rückert, 'Widmung' from Robert Schumann's song cycle Myrten Op. 25
Condemned At Kangaroo Court
Taking its motto from a Greek aphorism—Zóë moû, sàs agapô—My life, I love you— wailed by Psychocat at the climax of the final trial scene, Condemned At Kangaroo Court portrays the journey of I and his unique double, the Poet, through a series of hallucinogenic psychic spaces. An unseen Mystical Chorus comments cryptically on what happens throughout. I and the Poet eventually liberate themselves from what appears to be a terminal judgment on their aspirations by Grillmaster and the three Enigma judges.

Here the emphasis is on the codependence of the poetic and real worlds—the imaginative and sensuous apprehension of the Poet and the physical and intellectual burden of the nameless I, who could be anyone or everyone, male or female, liberal or conservative.

Scene 1 'Sing 'em muck and make a million': 'Sing 'em muck! It's all they can understand!'
Advice purportedly given by Dame Nellie Melba to Clara Butt prior to an Australian tour.

the waltz from Carousel,
floating with Lemminkainen above the hellish lake,
banging in each of those Nine Inch Nails: respectively, Richard Rodgers and Oscar Hammerstein II, the musical Carousel; Jean Sibelius, The Swan of Tuonela; rock group, lead singer Trent Reznor

Scene 3 Gone through a megamix boatload of snow: snow Colloq. cocaine
Ella, Billy, Dusty—they are just history: Ella Fitzgerald, Billie Holiday, Dusty Springfield
unless like poor old Dylan, whisky-sailing: Dylan Thomas

Scene 7 'Viva Emmanuel Re d'Italia': more correctly,'Viva Victor Emmanuel Re d'Italia', Risorgimento street cry during the Italian struggle for independence

Scene 8 to all who haven't found the proper use for butter: Bernardo Bertolucci, Last Tango In Paris

Scene 9 'I have a dream . . .' Martin Luther King, Jr., Lincoln Memorial, August 28, 1963

Scene 10 he settles back down to re-read Krafft-Ebing: Baron Richard von Krafft-Ebing,
Psychopathia Sexualis, collection of psychiatric case histories
Three little maids from school are we: Gilbert and Sullivan, The Mikado
My stardust melody: Nat King Cole, Stardust
Cleanse the foul body of the infected world . . . Jacques, As You Like It, II. VII
What a piece of work is a . . .: What a piece of work is a man! Hamlet, Hamlet II. II

Scene 12 '. . . the last full measure of devotion.': Abraham Lincoln, Gettysburg address
November 19, 1863
'Exoriare aliquis nostris ex ossibur ultor.' Virgil, May some avenger arise from my bones.
'Der Historiker ist ein rückwärts gekehrter Prophet.' Schlegel, The historian is a prophet looking backwards.

Scene 13 'Il est indigne des grand coeurs de répandre le trouble qu'ils ressentent.'
Clotilde de Vaux, 'It is unworthy of great hearts to pour out the confusion they feel.'

Reichstag, Berlin 2002
VOCABULARY and PLACE NAMES
NB References work written between 1967 and 2006
acre though Australia had adopted metrication by the nineteen-
seventies, many writers still find Imperial usages appropriate—
inch, foot, mile, penny, shilling, pound, ounce etc.

| | |
| --- | --- |
| Adelaide | capital city of South Australia; site of biennial Adelaide Festival of the Arts |
| Armidale | city found in the New England district of New South Wales |
| artesian | underground water brought to the surface through natural pressure or pumps |
| arvo | Colloq. afternoon |
| Australia Felix | happy Australia; name given by Major Thomas Mitchell |
| Balmain | inner-city Sydney suburb |
| banksia | a shrub with leathery leaves and a cylindrical head of yellow flowers; named after Sir Joseph Banks |
| Barossa | wine making district in South Australia |
| beaut | Colloq. good, worthwhile |
| Bennelong Point | site of the Sydney Opera House, named after the Aborigine Bennelong |
| billy | tin can used for boiling water over a campfire, usually to make tea |
| black prince | Colloq. cicada, coloured black with green markings |
| blue | Colloq. argument |
| blue-ringed octopus | venomous inhabitant of northern coastal waters, often found in rock pools |
| Bondi beach | popular Sydney eastern suburbs beach fronting the Pacific Ocean |
| bonzer | Colloq. enjoyable, pleasing |
| box jelly fish | sea wasp; deadly marine animal |
| broke | Colloq. ruined |
| bunyip | terrifying creature in Aboriginal mythology |
| bushranger | person who lived by robbing travellers |
| Cairns | coastal city in northern Queensland |
| Canberra | capital of Australia |
| chocka | Colloq. full |
| Circular Quay | arrival and departure point for Sydney ferries and hydrofoils; adjacent to the Sydney Opera House |
| clapstick | wooden sticks struck together providing rhythmical impetus in Aboriginal music |
| Cobb & Co. | company which first developed coach transport in the eastern part of Australia |
| cockatoo | crested Australian parrot |
| Commonwealth | at present Australia is designated a Commonwealth by virtue ofits federated states, legitimated under the aegis of the Governor-General who represents the British monarch |
| compo | Colloq. compensation |
| conk | Colloq. a violent blow |
| coot | Colloq. simpleton |
| copper | Colloq. policeman |
| corroboree | Aboriginal tribal ceremony, usually celebratory in nature |
| cozzies | Colloq. swimming costumes |
| creosote | oily liquid, used to protect bottom fence posts and telegraph posts from white ant attack |
| currawong | large bird known for its loud, ringing call |
| damper | bread made in campfire ashes from flour, water and salt |
| David Jones | Australia's oldest established trading store |
| Dandenongs | range of hills outside Melbourne |
| dunny | Colloq. outdoor toilet |
| echidna | spine-covered monotreme |
| eucalypt | common Australian tree with many varieties whose leaves have a characteristic scent |
| footy | Colloq. football |
| funnel-web | venomous spider |
| galoot | Colloq. fool |
| ghost gum | variety of eucalypt |
| goer | Colloq. something that promises success |
| Great Dividing Rang | mountain range extending from Queensland through New South Wales to Victoria |
| Great Southern Land | one of the names given to the continent thought to exist in the Southern Hemisphere before Australia's European discovery |
| haka | Maori ceremonial dance with singing |
| Harbour Bridge | one of Sydney's landmarks, this bridge, nicknamed 'the coathanger', was opened in 1932 |
| Heads | the entrance to Sydney Harbour is through North Head and South Head, two massive sandstone outcrops |
| Hills hoist | rotary clothes line common to many Australian backyards |
| Homebush Abattoir | former meat processing site in Sydney |
| Hyde Park | large park in central Sydney; originally a racetrack in colonial times |
| jacaranda | tropical American tree, widely found in Australian suburbs; its lavender-blue flowers are a distinctive feature of Sydney's summer landscape |
| kingfisher | generally birds of rivers, swamps and streams; in Australia's dry climate a number of species have become hunters of small lizards |
| Kings Cross | notorious red light and drug district in central Sydney |
| lamington | sponge cake cubes covered in chocolate icing and coconut |
| larrikin | Colloq. a youth who enjoys playing tricks |
| lucky country | used to describe Australia in Donald Horne's The Lucky Country |
| Luna Park | fun park located on the shore of Sydney harbour at North Sydney; it has undergone several transformations |
| magpie | common black and white bird found throughout Australia |
| mallee scrub | area of bushland where mallee gums predominate |
| mate | Colloq. friend |
| Melbourne | capital city of Victoria |
| Mount Lofty | prominence overlooking Adelaide |
| New England | region in north-eastern part of New South Wales |
| New South Wales | central-eastern Australian state, capital Sydney |
| Norfolk Island | island off the east coast of Australia infamous for its violent convict history |
| North Shore | Northern suburbs of Sydney, beginning at North Sydney and extending to Hornsby |
| Nullarbor Plains | flat, desert region extending through the southern part of South Australia and Western Australia |
| outback | common name for the huge, sparsely populated inland area that constitutes central Australia |
| Pal | brand name of dog food |
| Parramatta River | one of two rivers that empties into Sydney Harbour |
| Perth | capital of Western Australia |
| platypus | monotreme marsupial living along river banks with webbed feet and duck-like bill |
| Queensland | north-eastern Australian state, capital Brisbane |
| quokka | small wallaby found in south-western Australia |
| red-bellied | red-bellied black snake; venomous inhabitant of eastern Australia |
| saltbush | drought resistant grazing bush |
| sheila | Colloq. woman |
| Simpson Desert | large desert area in central Australia |
| southerly buster | southerly wind blowing along the south-eastern Australian coast |
| Southern Cross | star constellation in the Southern Hemisphere; part of the Australian flag |
| spinifex | spiny grass |
| Speewah | mythical outback station |
| stump-jumped | the stump-jump plough was designed to rise and fall over tree roots and stumps in newly-cleared land |
| sulphur-crested | the yellow crest of one of the varieties of Australian cockatoos |
| Surfers Paradise | popular seaside tourist destination found along Queensland's Gold Coast |
| Sydney | in area, one of the largest cities in the world, with a population of over four million |
| Timor Sea | sea separating the northern coast of Australia from Timor Island and the Indonesian archipelago |
| tinnies | Colloq. cans of beer |
| tucker | Colloq. food |
| ute | Colloq. utility truck |
| Victa | brand name for lawn mower |
| wattle | acacia shrub with yellow flowers |
| waratah | flower, emblem of New South Wales, it has a thick round head of flowers surrounded by red bracts |
| Whitsunday | island and coastal region of the Great Barrier Reef, Queensland |
| wowsers | Colloq. puritans, killjoys |
| West | the western suburbs of Sydney |
| yabby | freshwater crayfish |
PHOTOGRAPHS and DOCUMENTS
Elizabeth and William Nicholson
Frank Nicholson
Pat and Peter Nicholson 1985
Frieda and Ernest Field
Louvre, Paris, 1998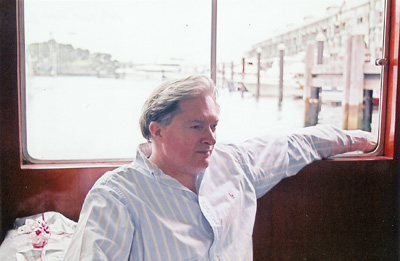 Sydney Harbour, 2002
Temple of Dendur
Metropolitan Museum of Art
New York, 2006